The last post of my Holiday Gift Guide is focusing on ties and cold-weather accessories.  We'll start off with ties.
Ties
While it seems that ties are being worn less and less by today's society, they still remain an important piece of the wardrobe to those who care about their appearance.  If you know a soon-to-be graduate, someone interviewing for jobs, or someone who just likes to wear ties, ties are a great gift.  The premiere name in ties is Drake's of London, but they carry a hefty price tag.  Fortunately, there are affordable options for high-quality ties that are made (sometimes by hand) in the USA, England, or Italy.  The Knottery has a great selection of ties and pocket squares, with most coming in under $40.  Though a little more expensive, Mountain & Sackett and J. Press both make excellent ties.  Look in the sale section of both sites for excellent deals.  Kent Wang also carries great grenadine and knit ties, and right now you can get $150 credit for $80 by purchasing this deal with the code X1FUS.
Winter Boots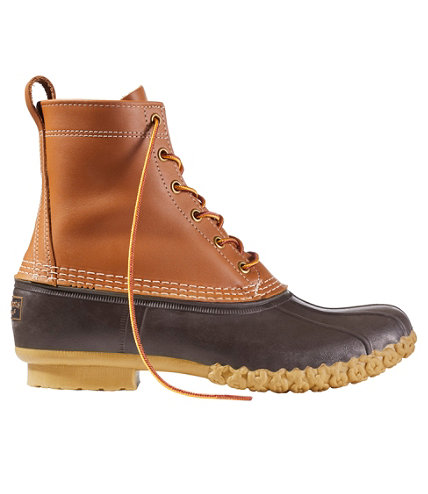 When it comes to winter boots, there's only one answer: the classic L.L. Bean Boot.  The L.L. Bean Boot has been around for decades (actually celebrating its 100th anniversary this year), and will never go out of style.  Not only do they look good, they do what they're supposed to do, keep the cold and wet of winter off your feet.  They come in a variety of styles, but order a size down unless you plan on wearing them with four pairs of wool socks.  Demand can be high in the winter, so they might be on backorder.  Don't be tempted by imitators from competitors.  Not only are they not as good, but they aren't backed by a lifetime guarantee.
Hats, Gloves, and Scarves
Cold winters require cold winter accessories such as hats, gloves, scarves.  I personally don't wear too many hats or scarves as I don't spend extended time outside.  That said, J. Crew  and Club Monaco have some good options at decent prices.  When it comes to winter accessories though, a pair of leather gloves cannot be beat.  Not only do they keep your hands warm outside, they keep a buffer between a cold steering wheel and sensitive hands.  The aforementioned retailers both carry leather gloves, but I like the Lined Leather Moto Gloves, unfortunately they only have XL in stock.  Ralph Lauren does carry a multitude of other gloves as well (also hats and scarves).  For a more affordable and perhaps more workwear inspired option, head to your nearest Tractor Supply and find a pair of yellow deerskin work gloves.  These gloves can look great (just make sure you grab the best looking pair available), and should be priced under $20 (though you might want to repackage them as some people would wonder why they got work gloves as a gift).
And thats all for the 2012 Holiday Gift Guide.  Keep up with the blog for news and opinions on men's style.